Qiandao-Lake Jiufen-Shifen Carpool-Tour (Wed.Sun.)
Carpool Tour to explore the secret wonderland at Qiandao Lake.Jiufen.Shifen~Start from Qiandao Lake~Gossip Tea Garden~Shifen waterfall old street~Yinyang Hai~Thirteen Storey Ruins~Jiufen Shancheng Old Street (hotel / designated location Pick-up):
Qiandao-Lake Jiufen-Shifen Carpool-Tour (Wed.Sun.) 1 day/up to 8 person/valid for at least four persons!
Booking Deposit: TWD500 / Per Person
Total Price: TWD1000 / Per Person
Qiandao-Lake Jiufen-Shifen Carpool-Tour (Wed.Sun.) 1 day/up to 8 person/valid for at least four persons!
<Pick-up area>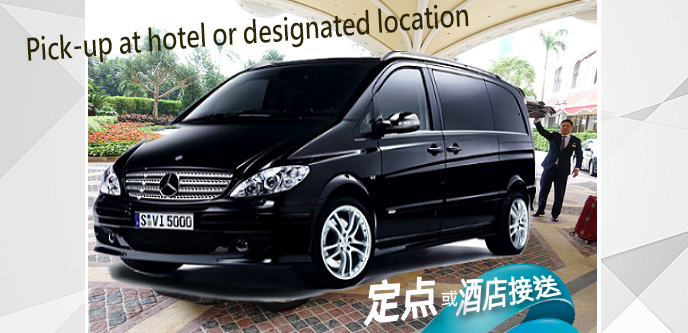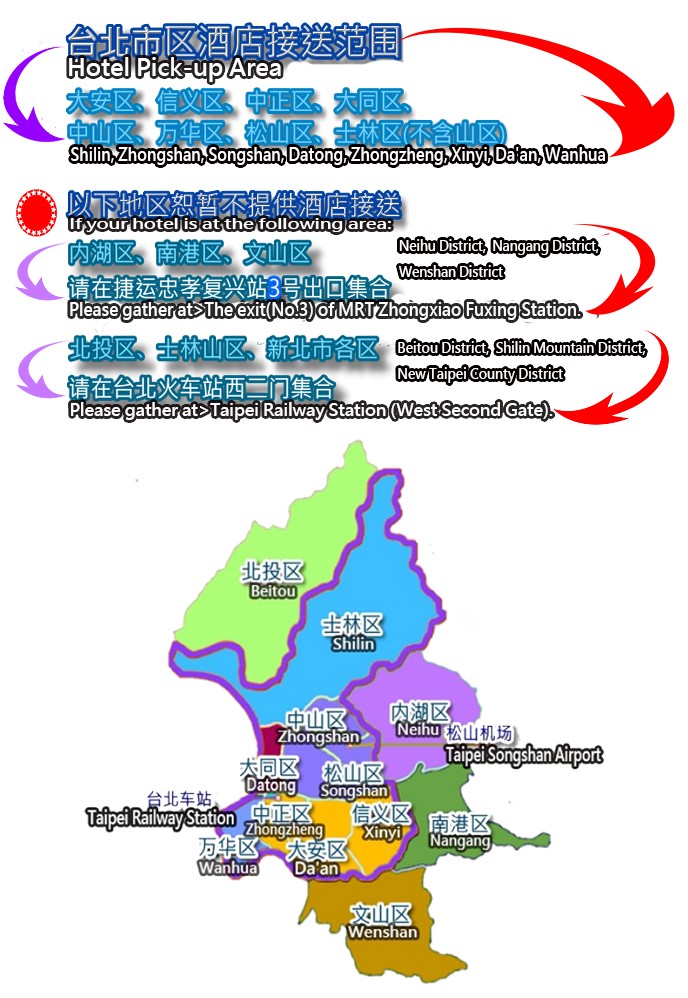 Qiandao-Lake Jiufen-Shifen Carpool-Tour (Wed.Sun.) 1 day/up to 8 person/valid for at least four persons!
<Route for reference>

8:00 Pick-up at hotel or designated location
To the hotels/home-stay of following area of Taipei City to pick you up: (Shilin, Zhongshan, Songshan, Datong, Zhongzheng, Xinyi District, Da'an, Wanhua).
Other than these areas, please go to the following designated location by yourself:
A) If you are at (Neihu District, Nangang District, Wenshan District)>> Please gather at the exit (No. 3) of the MRT Zhongxiao Fuxing Station.
B) If you are at (Beitou District, Shilin Mountain District, New Taipei County District)>> Please gather at Taipei Railway Station (West Second Gate).
Our driver will always pick you up at the hotel or designated location on time.

8:30 Departure by car to Qiandao Lake

1st Stop: Qiandao-Lake Jiufen-Shifen Carpool-Tour (Wed.Sun.) 1 day/up to 8 person/valid for at least four persons!

9:30 Sightseeing at [Qiandao Lake] [Private secret Place ] [Tushitou Lookout(Catfish Island) ] [Gossip Tea Garden] attractions
Qiandao Lake is located in Shiding, and the Beiyuxi River flows through it. It is a catchment area for the construction of the Jade Reservoir and the submerged village. Because of the rising waters of the lake and the original mantle landforms, it has become famous as the Tanwan, which looks like thousands of lakes and islands.
Qiandao Lake has a variety of charming styles in the day, from different angles can take a variety of different styles of beauty, interesting composition makes the picture more abundant.
It is a combination of the Emerald Reservoir and the surrounding mountains, with beautiful views of the lakes.
Looking out from the observatory of the snack department, Several seemingly isolated cascades of mountains rise and fall, far and near shades, dotted with terraced tea garden landscapes in an orderly manner. Reflecting the slight ripples of the green lake water caused by the breeze wrinkles, it is like a fairyland on the green hills and valleys, which is breathtaking.
Some special private places here, in addition to the huge crocodile island, keep going to the place where the water surface on the middle of the Qiandao Lake, the head of the island and the body are connected to form a "bandit" that is coming along to you, so it is called "Tu Shutou".
The Chashan terraces that you can see from the observation deck of the Qiandao Lake is the "Bagua Tea Garden". With the rise of the Qiandao Lake sightseeing and the famous filming of the idol drama "Tenderness of Compassion", it has become one of the must-see attractions to visit Qiandao Lake. The tea garden owner has set up a restaurant and observation deck for visitors to enjoy the moment. Come here to taste the store's self-produced, proud of the competition package tea, the entrance is smooth and fragrant.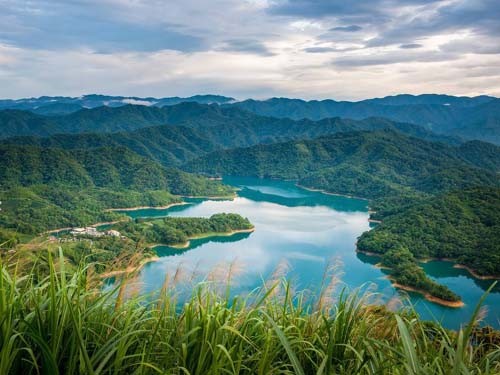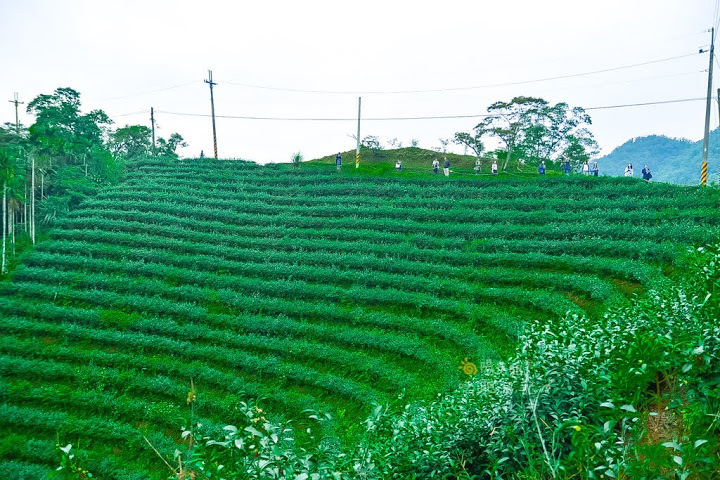 2nd Stop: Qiandao-Lake Jiufen-Shifen Carpool-Tour (Wed.Sun.) 1 day/up to 8 person/valid for at least four persons!

11:00 Travel to [Pinglin Qinshuidiao Suspension Bridge]
The "Qinshui Suspension Bridge" connects the Beiyuxi two-shore Guanyu Trail and connects the Pinglin Tea Industry Museum, Pinglin Suspension Bridge and the Image Business Circle. It is the best place to enjoy the underwater fish.

3rd Stop: Qiandao-Lake Jiufen-Shifen Carpool-Tour (Wed.Sun.) 1 day/up to 8 person/valid for at least four persons!

11:40 Travel to [Shifen old street] attractions (recommend lunch here)
You may walk around to take pictures, do old railway treasure hunting, or to buy a lantern praying for your dream come true, other than this, you may go to watch the waterfall. Like Pingxi, there are many places here where the sky lanterns are shining, for the famous sky lantern culture, Moreover, it was because of the movie, "The girls we chased those years," Ke Jingteng and Shen Jiayi was role as actor and actress successfully, they attract people to visit here, especially for boys and girls.
Whether you visit here with a friend or a lover, to put a lantern on the sky, means to bring your wish fly higher to reach to the God, believe or not, the ritual will make what you wishes achieve faster.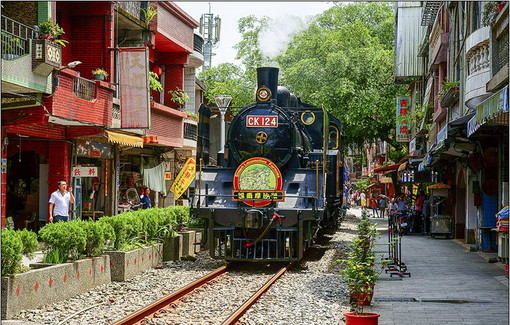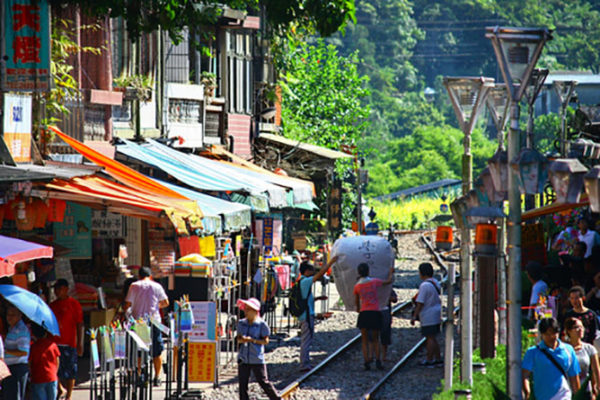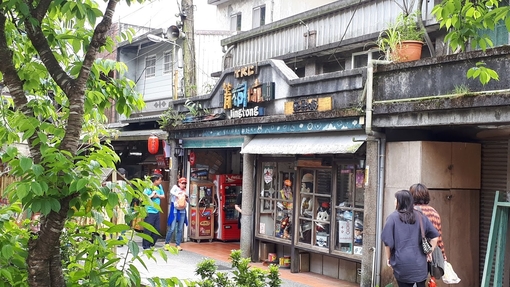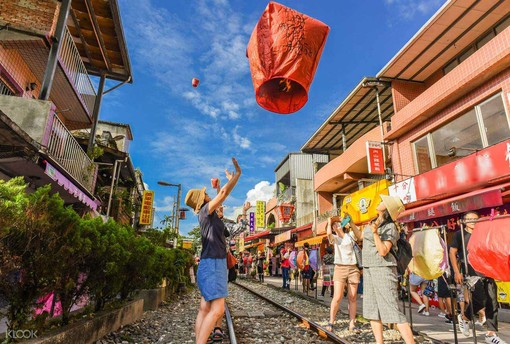 4th Stop: Qiandao-Lake Jiufen-Shifen Carpool-Tour (Wed.Sun.) 1 day/up to 8 person/valid for at least four persons!

14:00 Travel to [Yinyanghai] / [Golden Waterfall] / [Thirteen Storey Ruins] attractions
[Yinyanghai]: Watching the wonders of the yellow-brown coast different from the Côte d'Azur, the yellow and blue contrasts form the so-called [Yinyanghai] "yin & yang sea" .
[Golden Waterfall]: The upper reaches of the Golden Waterfall used to be a copper mining area. The rainwater infiltrated into the mining area to oxidize the water, which eventually formed this peculiar golden yellow waterfall. The water flow of the waterfall seems to overflow from the ground, and it flows down one level and one level. Although there is no such shocking shock, it has a special form of beauty.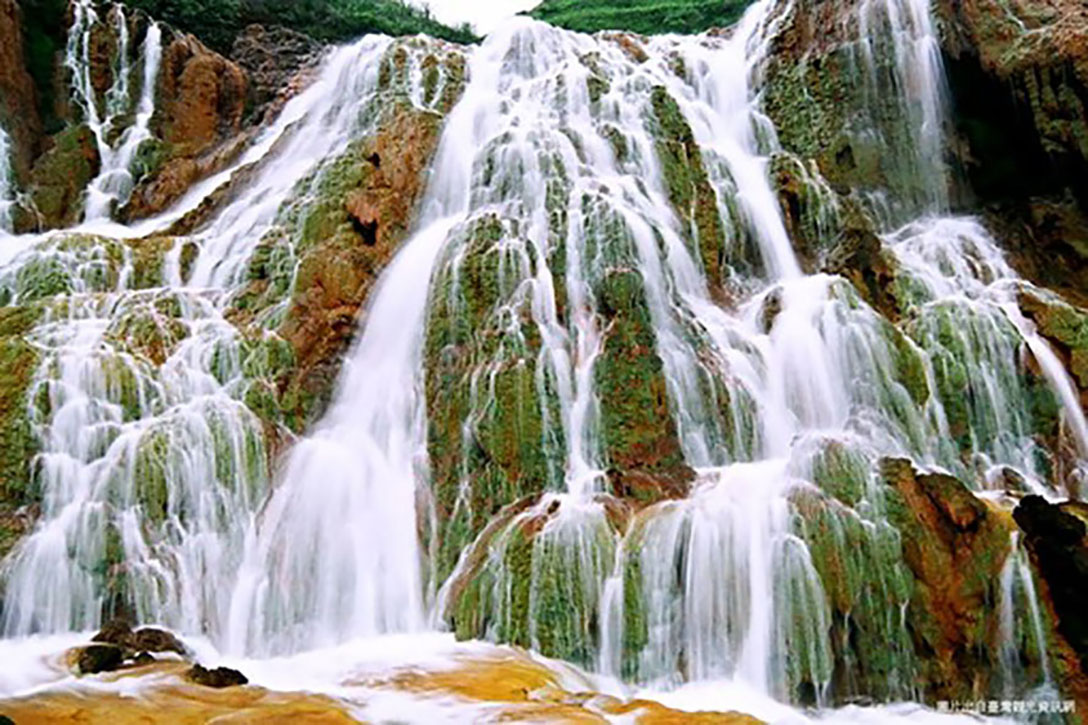 [Thirteen Storey Ruins]: It is like the disappearing "Pompeii" ancient city full of mysterious colors.

5th Stop: Qiandao-Lake Jiufen-Shifen Carpool-Tour (Wed.Sun.) 1 day/up to 8 person/valid for at least four persons!

15:00 Travel to [Jiufenshancheng Old Street] attractions Going to the magical world of Spirited Away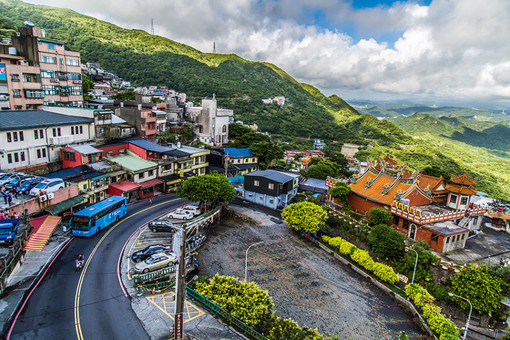 17:30 Returning to Taipei
Return to the original connection location on a case-by-case basis depending on the location of your hotel/homestay or other designated area.
18:30 End a full of good memory and joy day trip
The above itinerary may be adjusted according to the actual situation of the day.
Qiandao-Lake Jiufen-Shifen Carpool-Tour (Wed.Sun.) 1 day/up to 8 person/valid for at least two person
Expense description
Vehicle requirements: vehicle fuel costs, parking fees, high-speed fees, vehicle usage fees, city fees, congestion charges;
Driver's fees: driver service fee, meal fee, tip;
1. The whole meal is self-care.
2. All personal expenses and expenses include any fees not mentioned.
3. Shifen lanterns (150-300 Taiwan dollars/only), Cat Village Mine Cars, Miles Flying Umbrellas, etc. All personal consumption and expenses include no mention of fees.
4. Additional costs due to force majeure such as weather, aircraft, machine failure, flight cancellation or change time.
5. Large baggage storage fee: Carpool products cannot carry baggage. If necessary (20-inch and above suitcases), add 50 yuan/cylinder fee, please pay the staff before departure.
6. Overtime/Ultra-km service fee: If the actual travel time exceeds the standard service range of 10 hours/day or 300 km/day due to the long tour time, you will need to pay the overtime or over-kilometer fee. Calculated as local currency, please pay in local currency; overtime 200 yuan / hour, over 2 kilometers / km, by carpool passengers share.
Contact & Instructions
1. You will receive a confirmation message after the booking is made.
2. The driver will confirm the time and location of pick-up by SMS or WeChat (not later than 22:00), on the day prior to the trip. Please make sure that your contact mobile number can be connected.
3. Please be noticed: The reserved name traveler need s to gather at the agreed place waiting for pick-up before the agreed time (10 minutes in advance).
4. If you do not have SMS, phone or other device to confirm travel information before you travel, please call the emergency contact number or customer service hotline.
The guide will communicate with you at the scheduled time and at the scheduled location before the trip to start a pleasant journey.
Booking notice
The tour time and itinerary of this one-day product attraction have been scheduled. The specific travel time is subject to the notice of the director. Please understand and cooperate with the director.
The director can temporarily adjust the tour order and stay time of the scenic spots according to the weather on the day of travel, road conditions, traffic congestion in the scenic spot, and other unexpected situations.
Please understand and forgive us for no cancelling the itinerary or requesting a refund due to the inability of the weather to cause certain attractions to be unable to reach normal viewing status.
Please understand that time delays caused by force majeure such as traffic, weather, strikes, safety considerations, changes in tourist routes, adjustment of scenic spots or sightseeing time, cancellation of travel or attraction changes, etc.
In the tourist season or other special circumstances, the departure time of the itinerary may be earlier as scheduled or slightly delayed, so please understand and prepare in advance.
Special matters: < Attention to carpool tourists >
Please understand it is inevitable that the carpool trip will be delayed due to the traffic conditions in the city.
Due to the travel time of the group tour, there may be a 15-20 minute error, which is subject to the actual situation without prior notice.
Due to the carpooling business, it is not possible to accept luggage. This product is a fixed trip and does not accept temporary adjustments.
For carpooling trips, please be sure to arrive at the pick-up location in advance or on time. If you are late, the trip of other guests will be affected. You will be deemed to have voluntarily waived this service. The loss will be borne by the guest and no refund will be given. Please understand and forgive if it may occurred.
Failure to participate or terminate the itinerary in advance (the unfinished part will be deemed to be waived by you), the product will not be retired, and the accident that occurred when leaving the group will be at your own risk. Please understand and forgive if it may occurred.
If you have other needs for your itinerary, or if you need extra time at certain attractions, we recommend that you order a chartered product to meet your needs.
This price is the usual price. Except for major holidays and Chinese New Year, please contact customer service for the price during the Spring Festival.
This product, regardless of the adult or child, is the same for one person.
If you need an invoice for this itinerary, please note it separately at the time of booking.
Children over 2 years old and adults can participate in the tour group. The 2-4 year old child is required to provide a safety seat, please leave us a note in the booking form.
Infants under the age of 2 and women who are pregnant for more than 8 months are not allowed to participate in the tour. Please understand.
Intimate reminder:
Some of this itinerary runs through the mountain road, so visitors are prepared to suit the motion sickness medicine according to their personal physique.
Please keep your mobile phone unblocked during the tour so that the relevant reception staff can contact you.
Carrying cash/valuable items must be kept at your own discretion. If you are damaged or lost during the trip, we will not be responsible for that, please understand.
Precautions:
The model of this product using the vehicle is arranged according to the number of guests.
Please go to the gathering place in advance during the trip and please observe the time of getting on and off to avoid delays.
Personal safety and additional costs incurred due to abandonment due to guest reasons shall be borne by the guest.
In the event of irresistible factors such as typhoon, earthquake, heavy rain or safety considerations, we reserves the right to defer the departure or the full refund.
We are not allowed to refund for the following conditions: if you are late for personal reasons, or you are unable to participate in the itinerary on time (it is deemed to be waived automatically) , or you'd like to suspend or abandon the itinerary. Please be understanding
Warning for safety:
There are certain risks in swimming, rafting, diving, skiing, ice skating, and snow sports. Before participating, please do your best according to your own conditions and fully refer to the relevant announcements and recommendations of relevant local departments and other professional organizations.
For your safety, when you participate in dangerous indoor or outdoor activities (such as swimming, rafting, diving, skiing, ice skating, snow, parachuting, etc.), please be sure to fully understand the weather conditions of the day, your personal body. The situation and the relevant announcements and recommendations of other professional organizations will be followed. Remind you to pay attention to personal safety. If you participate in the corresponding project, please read carefully: "High Risk Project Warning".
Purchase notice ( Refund Policy & Terms)
The company's travel products do not support partial refund.
The company's product support cancellation. If you need to cancel, please contact "Longguan Tour" by email to formally submit your application, and use cellphone: +886-938578080, or "Line: 0938578080" or "WeChat: f0938578080" to double confirm the cancellation.
【User Cancellation】
If you need to cancel, please use the Email address of your member account, to contact "Longguan Tour" for formal application of the cancellation. In order to prevent errors, we do not accept cancellation by simply using a phone notice.
No loss will be charged before 17:00 (inclusive) 3 days before the date of use.
2 days before the date of use, and before 17:00 (inclusive), deduct 50% of the buyer's order amount as seller managing
fee of loss.
2 days before the date of use, but after 17:00, 100% of the buyer's order amount is deducted as the seller's managing fee of loss.
Reservations (local time) cannot be refunded within One day prior to the date of use.
Important reminder
We respect and protect user privacy, and user information is only used to assist users in booking travel merchandise;
For reservation orders, the full payment must be paid within the payment time limit. Payments that exceed the time limit will be considered as invalid payment. The system will return the money to the original payment account within 1 working day. Upon successful purchase, the confirmation email and SMS will be received.
Before you travel, please make sure that your physical condition is suitable for your trip. You should inform us about your health status.
Please respect local eating habits, custom taboos, religious etiquette, and comply with local laws and regulations;
For the safety of your personal and property, please avoid exposing valuables and large amounts of cash in public;
The items you have booked may include high-risk items (such as swimming, rafting, diving, skiing, etc.). Please participate in the relevant conditions and refer to the relevant announcements and suggestions of relevant local departments and other professional organizations before you participate.
It is recommended that you purchase travel accident insurance and other insurance to protect your short-term travel accident insurance and emergency rescue insurance for your life, body, property or related interests during your domestic travel.